ZF S6-40 RACE TRANSMISSIONS

Rockland Standard Gear is the only ZF-certified distributor/ remanufacturer for the S6-40 6-SPD transmissions found in the 1989-96 C4 Corvette. We remanufacture this transmission for ZF and GM. Call for information on getting your unit rebuilt.
All race ready units from Rockland Standard Gear have steel 3-4 shift forks, Carbon fiber synchro rings, solid synchro keys, all components match-fitted, blue printed, Performance shimmed, and new OEM bearings.
ZF S6-40
Ford 302 & 351 CID, 1989-96 C4 Corvette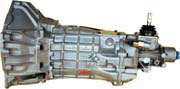 T56-012
6-SPD
New ZF S6-40 transmissions 540 nm., crash- through shifter,
optional lift ring shifter installed