The Transfer Case Guru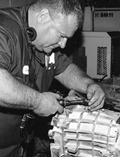 George Kreppein is Vice President of the Remanufacturing Division of Rockland Standard Gear Inc.
George has been rebuilding and modifying manual transmissions and transfer cases for 25 years.
George is a nationally known expert in rebuilding and trouble shooting manual transmissions, 4WD transfer cases, and differentials.
When it comes to trouble shooting manual transmissions and transfer cases George is the "answer man".
Under George's steady hand the remanufacturing division staff produces an average of 100 manual transmissions, transfer cases, and bullet proof race units per week.