Rockland Standard Gear Corvette Finishes Second to Porsche in Last Lap Drama at Inaugural Grand-AM Cup Alabama Race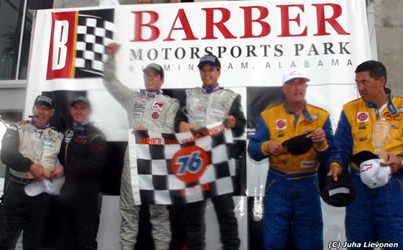 Andy Lally loses lead and settles for second in a remarkable Grand Am Cup race for a series known for thrilling races.
Birmingham Alabama --May 17 2003 - It began as a ten second long nose to tail procession of 10 cars cars for 31 laps. A dynamic, flexing and stretching rubber banded race string, the race was led by the # 11 Sunoco Corvette driven by Devon Powell, and guarded at the rear by Mike Weinberg in the Rockland Standard Gear #02 Corvette. Call it the automotive equivalent of an Olympic style bicycle pursuit race.
"I could not believe what was going on in front of me" a happy Mike Weinberg said on the Podium" I was sitting back watching the 47 Zippo Mustang, the #39 Huang Corvette, and all the Porsches, just leading and beating on each other. I decided to hang in stay in touch and see how it all panned out. It panned out pretty good, although first would have been better!"
At the beginning it was all Devon Powell, carefully preserving the Sunoco Corvette and leading with consistently fast times, " I did not have a lot left in speed, but I had a good rhythm and a couple of places the car really hooked up, so staying in front was what I wanted" Devon Powell said " the Sunoco Corvette was fast and the new Barber track is a super place to race".
The #6 Porsche of Dyson and Law pitted very early at the first caution a move that would cost them the race when Law ran out of gas while leading with a few laps remaining. The rest of the leading GS1 cars all pitted at lap 31, and the firs to f a series of breakouts tot he front began. After the initial pit stops were done at the second caution, Andy Lally came out 4th, and Dsoug Goad had slipped to 11th.
"You could say the #11 stop was late and a bad move on our part," Crew Chief Troy Flis said " but both the #11 and # 02 stops made by the Powell team were good. The race pace was such that if I had pitted Devon any earlier, the #11 car may not have finished on fuel As it was the #02 car ran out of gas on the cool down lap after the checker!"
After the stops, a mid-race frenzy of battles and surges to the front began. Anyd Lally hung back, and Doug Goad made determined march to front " I did what I could I wanted to get to the front and control the Porsches if I could" Doug Goad said after the race " but I ran out of tires too soon, I did gger the lead for a couple of corners, but I did not have enough. The with ten laps to go the differential began to tighten up and the car just lay down". Meanwhile Andy Lally had slipped back to 6th, then moved up to fourth, battling and scrapping with both the 39 Hall Corvette and the rest of the Porsches.
" I was waiting" Laly said " team leader John Powell told me to save it and be patient. I took his advice. But that Rockland Standard Gear Corvette is sweet and when I made my move it sure was ready!"
When the 06 Dyson Law car pitted for fuel the march to the front for Lally began, capped by a fastest race lap of 1 minute 33.9 82 on lap 70. Running hard in front, the conclusion of the race came down daring dive bomb pass by Dumoulin on Lally. It was a last lap pass three corners from the checkered, a pass to which even the brilliant Lally could not reply, and it left a still jubilant and happy Mike Weinberg and breathless Andy Lally second. Doug Goad and Devon Powell ended up 4th. Next race in the thrilling Grand Am Cup is at Fontana the California Speedway June 7. The performance continues…
The Powell #11 Corvette races with Sunoco Ultra 94 ethanol enhanced gasoline, available throughout Ontario, Canada - the highest octane on the street.
The Powell #02 Corvette races with sponsorship from internationally recognised standard transmission experts Rockland Standard Gear. Rockland is a standard transmission re-manufacturing and wholesale parts distribution business located near New York City, USA.
The #11 Z06 Corvette also races with Chemcraft International Inc. Chemcraft is a North American leader in the supply of unique, high performance and environmental friendly industrial coatings for the wood finishing industry. The Chemcraft Wood Coatings Group are headquartered in Winston-Salem, North Carolina and Port Hope, Ontario with active plants and warehouses across USA and Canada.
Sunoco is a subsidiary of Suncor Energy, a Canadian integrated energy company. In addition to a refinery in Sarnia, Sunoco has a network of more than 300 Sunoco-branded retail and Fleet Fuel cardlock sites and is 50 per cent co-owner of over 200 Pioneer and UPI retail sites. Sunoco manufactures, distributes and markets transportation fuels, heating oils and petrochemicals primarily in Ontario. The company markets natural gas to commercial and residential consumers and offers consumers Sunoco products and services online through the company's web site at Sunoco.ca
Contact:
Rob King
Brand Manager, Sunoco Ultra 94
Suncor Energy Products.
416-733-7020
rking@suncor.com
Sunoco.ca
Bob Maresco,
Rockland Standard Gear Public Relations
1- 800-227-1523
Rsgear@aol.com
John Powell
Powell Motorsport
905 986-2277
e-mail Powell.motorsport@primus.ca
Powellmotorsport.com